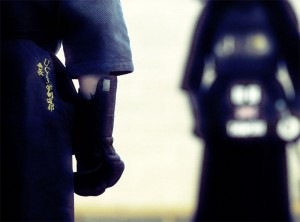 So, once again, there are 3 more years before the next WKC, which gives us all a new target to work towards.
Although as a team Great Britain performed excellently in Brazil, and we were massively complimented by many of our fellow competitors, I personally left the tournament with the feeling that I could have done better.
I watched some footage of my shiai, and compared it to footage of myself at the previous WKC for comparison. There is no doubt that I am a far better player now than I was in Taipei, especially from a technical point of view. However, there was clearly 'something' about the 'old' me that was missing this time round… This wasn't something 'physical', as I am both technically better and faster than I was 3 years ago. Nor is it ageing as, much to the surprise of many, I am still a mere 26. This 'something' is something in my mental game.
So I began to do some research.

I put on a DVD that came free with an old issue of Kendo Nippon, which contains a documentary about 'Mental Training' for Kendo. This was a very educational documentary, and many of the points raised appeared to be very relevant. Firstly, the sensei tells his students the concept of 'self image' is incredibly important. Much to my disappointment he was not to go on to offer out Kendo-specific fashion tips, rather he was referring to the image one holds of one's skill. He said although it is important not to be overtly-arrogant, you must not constantly think to yourself 'I am terrible!!' – Basically you must believe in yourself if you want to 'win'.
Later on in the documentary a practice shiai is shown. Here the point that is highlighted is the concept of having a 'focus point'. This was the real gem! The footage showed 2 students engaging in shiai, and reasonably quickly the red player receives a beautiful men-uchi. The commentary then informs us that the red player's 'focus point' is the Japanese flag. In that it means, when he looks upon or thinks about the 'Hi no Maru' he becomes 'inspired' or 'motivated'. As the two players re-set to their starting positions, the viewer can clearly see the red player take a glance towards his beloved flag, which is hanging in the dojo. As soon as the shushin calls 'nihonme!' he fights with a renewed vigour and soon after comes back with a fantastic debana-men.
This got me thinking. Is this what separates the 'good' from the 'great'? The 'winners' from the 'some times winners'?
Soon after, I watched the now infamous National Geographic documentary entitled 'Kendo's Gruelling Challenge' (I am sure you know the one). In this documentary, Mr Ishida talks about the time he claimed victory in the All Japan Kendo Championships. He goes on to speak about how it was the tragic thought of his dying son which gave him the 'strength' to achieve victory. This was his 'focus point'.
Next I watched another documentary, which featured a player who had learnt Kendo and become very successful, despite being without his right arm. He admits himself, that if he had both of his arms, he would probably have never become as strong as he has…
I have come to realise the importance of this 'mental' aspect of Kendo. We often ponder on the 'mental' concepts, such as 'Fudoshin', 'Mushin' or 'Heijoshin'. However, I think these are somewhat different concepts to what I am talking about here. I currently don't know a Japanese idiom which expresses this… though I am sure there are many.
The conclusion I came to is that one must put oneself under intense pressure to 'win'. It is often considered a bad attitude to have in Kendo, but if one does not desire victory, how can we accurately carryout sutemi, and therefore successfully achieve true ippon? Sutemi, in the context of Kendo, is to 'sacrifice' everything in a single moment, in order to successfully perform a 'perfect' strike. However, unless you really, really want to make the strike successfully, what can you be said to be actually 'sacrificing'? If you aren't' putting anything 'on the line', then you can't expect for your attempted strikes to truly 'pay off'.
Perhaps in order to be successful, not only in shiai, but in all of our attempts to make Ippon, we need to find within ourselves our 'focus point'. We must find our motivation for wanting to make that single strike belong to us, and not to our opponent.
Since returning from Brazil I have thought a lot about these points during my practice, and I think I have found my 'focus point', or at least I am getting close to it. I won't tell you what it is, at least not here, but I am sure you have one of your own to put to good use…