As the end of 2011 draws to a close its time for the year-end wrap-up, our 4th since the website began.
This year has been different one than the others due to being struck by a car on my way home from work and was hospitalised. After spending three weeks in the hospital and another week at home I was immediately back in the dojo for mitori-geiko.
Its been almost 4 months since the accident now, and I am back to teaching kendo at work and going between teaching and joining in with the beginners at my normal adults dojo. I'm still commuting to the hospital for rehabilitation and doing exercises at home. Just a little bit more and I will put my bogu on and see what happens. Thanks to everyone for getting in touch to offer words of support!!
Despite my keiko-life taking a turn for the worse, kenshi247 still managed to release 34 articles and publish our first ever real-world physical book (more on this below).
Amongst the articles released this year I'd like to highlight the following:
- Pursuing the spirit of modern kendo: a 5-part marathon translation of Morishima sensei about the state of modern kendo.
- Thoughts on tameshigiri from famous swordsmen: a translation of the words of Nakayama Hakudo and Takano Sasaburo. This caused a little bit of controversy online, despite it not being the translators words nor opinion.
- A lineage all but forgotten: the start of a series about the famed Yushinkan dojo. Hopefully the follow up articles will arrive soon.
- I am a deshi and The True meaning of gratitude: a couple of very short translations by children that remind us of some important things we must keep in mind while studying kendo (or any budo).
- Take-dou: A labor of love: my friend Eric handmade his own dou from scratch. Yup, you read right! Check out the link to see how he managed this incredible feat.
There are of-course loads of great articles to be found on the site… look around!
---
Publications
Part of my aim with this site is to produce accurate kendo information in English to the non-Japanese speaking world. I think we are succeeding in this mission somewhat. However, some articles get buried deep within the site and are hard to find. To combat this, one of the things I'd like to do is to gather and publish articles now and then. This will also help to pay for domain names, hosting, etc.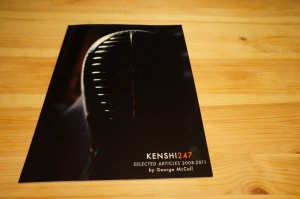 kenshi247: selected articles
This is our first printed publication. Created solely with articles off the site its a beautiful 50-page book in magazine format. To see more pictures and read more about it, please click here or on the image to the right. A link to buy it can be found on that page or alternatively you can click the picture in the sidebar to go straight to preview/purchase.
Your support is appreciated!!!!!
Kendo 2012 calendar
We put together a 2012 calendar using never-before seen pictures, click here for preview/purchase information.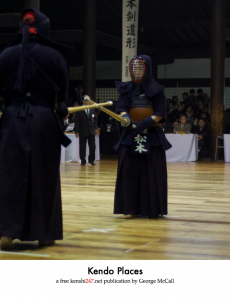 2011 Xmas present – Kendo places
I have collected the 'kendo places' series into a magazine-styled book and have made available for FREE as a xmas present (pdf/iPad) !! If you wish to get a physical copy you will of-course have to pay a small fee for printing etc costs.
Please click here or the cover image on the right to preview/download it. Enjoy!
Publications for 2012
I am hard at work on two separate projects, hopefully to be finished in the first half of 2012. I will post information on the site and on facebook when they are released…….
---
Renewal and redesign
Over xmas/new-year I HOPE to sit down and do my yearly renewal and redesign. The site is getting a little bit cluttered, so I want to streamline it. In particular:
- make it easier to find older, high quality articles
- archive some of the old/short articles for historical purposes (rather than delete)
- a cleaner/easier managing process for the Eikenkai and Yoseikai sites
- a creation of a new website for kenshi247 publications – http://kendo-book.com/
- re-instatement/development of a proper gallery function
---
And thats it!!! I hope you have a good winter holiday period, and good luck with your keiko next year. See you in the dojo.
Cheers!
- George
Osaka, 21st December 2011.