— The Kendo Reader (KENDO TOKUHON) —
Witten by the celebrated kenshi Noma Hisashi and published posthumously in 1939, The Kendo Reader (Kendo Tokuhon) is a true kendo classic. Here, for the first time in any language other than Japanese, we are proud to present the book in its entirety.
Although the shape of kendo has evolved in the 75 years since the initial publication, the book's content has barely aged and is still highly relevant to kendo practitioners today. Not only kendoka, however, the book will prove interesting to martial arts practitioners across various disciplines and to those interested in Japanese martial arts history and theory.
Note that a copy of the translated book was released online about 20 years ago, but this copy had at least 30% of the content missing. Not only that, but the content that was released was full of omissions and transcription errors. These problems were compounded when it came to translations based on these incomplete and error-ridden English copies. Obviously, none of these copies can be said to be representative of the original book.
What we have done in this new edition is restored the FULL content, fixing errors and omissions in the original translation, and going through chapter-by-chapter, word-by-word, the entire book, in order to reproduce it as faithfully as possible to the original Japanese.
Everybody that has helped work on the project or has held a copy of the final product in their hands has said that it is – without doubt – the most definitive kendo book available in the English language. Not only that, but the finished printed book is simply stunning!
Pictures
Looking at the pictures below you can see the new English version in comparison with the (well worn!) 1939 original. The new version not only faithfully renders the original inlays, but has information about what is actually written in them as well of the bio of who has written it – something only found in this new edition. We have also taken the utmost care in typography choices, and added in pictures to give the book a more stylish feel. I'm sure you'll agree that the book is beautiful!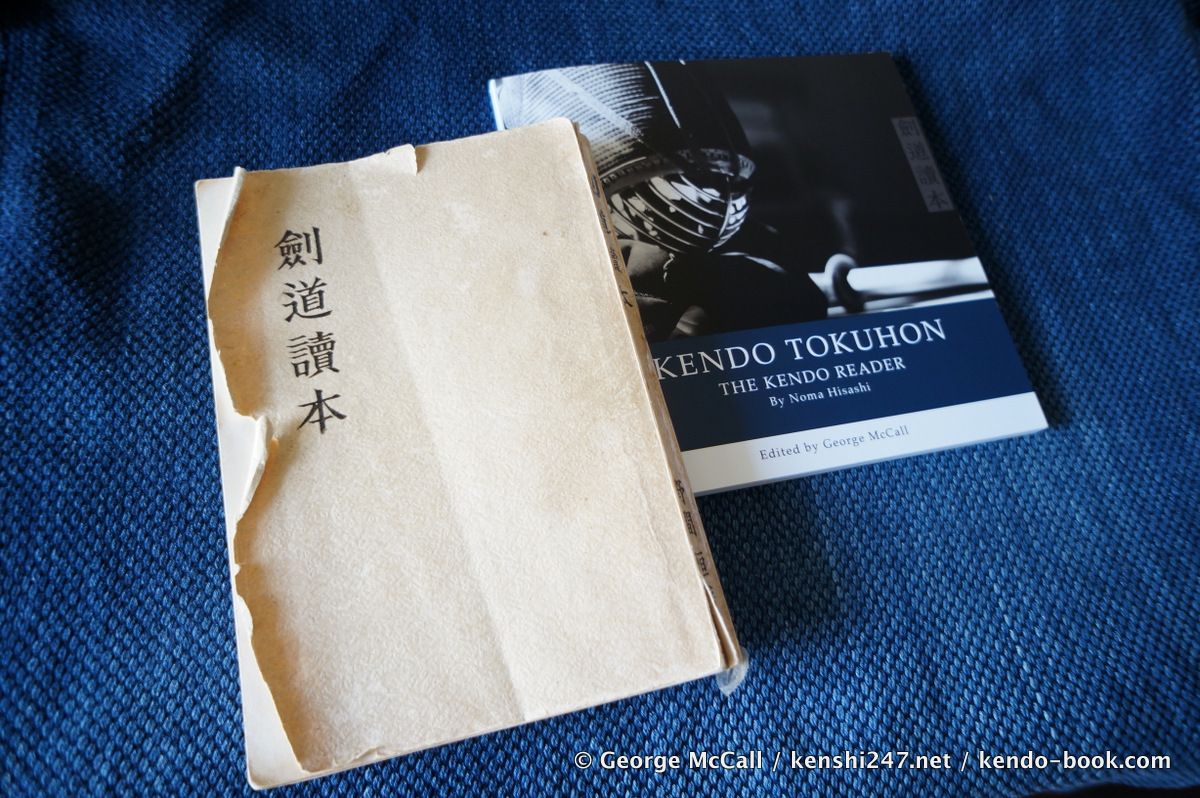 Contents
Author picture and inlays – as found in the original book
Editor's introduction – about this new edition
About the author – Noma Hisashi's background
Forward: Takano Sasaburo – forward from the father of modern kendo
Forward: Nakayama Hakudo – forward by the only man to reach hanshi in kendo, iaido, and jodo
Author's preface – Noma's introduction
The Kendo Reader main content – 38 chapters
Appendix – posthumous additions
Addendum – inlay descriptions and miscellany
Formats
We offer two formats: an absolutely gorgeous deluxe printed version, and a more affordable digital one.
At nearly 140 pages, the printed book is chunky and feels solid. It's printed on magazine quality paper which is acid-free and FSC-certified, which means it's from responsibly managed forests and verified recycled sources. It also smells great! A free digital copy is also included with the deluxe version, so you can start reading straight away. (offer expired)
We love books and it's our wish that everyone orders the print version. However, as the books are printed on demand in America, we are well aware of the added costs that come with postage and packing. Therefore, we have decided to create a digital version for people that don't want to be burdened with these extra costs.
Whichever format you choose, we are sure you won't be disappointed – either in price, quality, or content.
Get it !
Click here to preview and purchase the deluxe print edition
Click here to purchase, and immediately download the digital version.
Bonus: Noma Hisashi in action circa 1930
Luckily, there is some video of Noma actual doing kendo! This is from 1930 and was filmed in Saineikan, the dojo in the grounds of the imperial palace in Tokyo. He starts on the left in this video.